JIRI to EVEREST BASE CAMP TREKKING (Classic Route)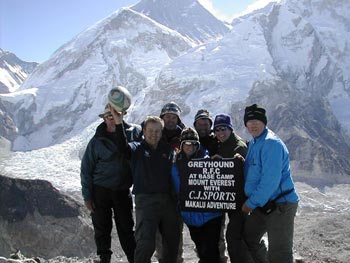 With eight of the world's ten highest peaks, Nepal is loaded with spectacular mountains vistas. Everest trek in justifiably famous, not only for its proximity to the world's highest mountain (8850m) but also for its friendly Sherpa people, picturesque villages, great variety of cultures and traditions, colorful festivals and monasteries. The flora and fauna are other ornaments of the Sagarmatha National Park. The story of the yeti is still a mystery in the world from the Khumbu region.

Day 01 Kathmandu (1,310m)
Arrive Kathmandu and Transfer to Hotel

Day 02 Kathmandu Sightseeing
Sightseeing in Kathmandu.
After breakfast at Hotel, we will start the full day sightseeing (0900hrs) by coach where our first spot will be Swayambhunath and continue as follow (All listed in World Heritage Sites by UNESCO).

Swayambhunath: One of world's most glorious, ancient, enigmatic and the holiest of Buddhist Chaityas dating back more than 2000 years is situated on a hillock. Swayambhunath, literally "the Self-Created or Existent", is a mosaic of small stupas and pagoda temple contributed by and time by the succession of kings and noblemen. The main structure of is made of a solid hemisphere of brick and clay supporting a lofty conical spire capped by pinnacle of copper gilt. Painted on the four sides on the base of the spire are the "All Seeing Eyes" of Lord Buddha. The main features of Swayambhunath in brief are "The Five Buddhas."

Bouddhanth: This colossal and ancient Stupa, one of Nepal's most unique monument and said to be the world biggest, attracts Nepalese pilgrimage of Tibetan stock from as far as Dolpo and Mugu as well as Tibet, Ladhak in India and Bhutan. Baudhanath Stupa with all seeing eyes of primordial Adi Buddha on all the four sides of the stupa is said to hold the remains of Kasyapa - the Buddha of the previous time.The Stupa 100 meters in diameter, built on an octagonal base inset with prayer wheels by the Lichchivi King Mana Deva in the fifth century rises to 36 meters above the base including the spire, "all seeing eyes" and the pinnacle represent the stages of enlightenment, symbol of royalty, compassion, knowing and nirvana. There are many myths about the origins of the stupa. Will have lunch here after the sightseeing (around 1330hrs).

Guheshwari: The short drive from Bouddha will take you this place said that when Sati, the consort of Siva, immolated herself due to her father's insult, Siva stricken with grief, wandered the skies with her corpse as pieces of her body fell to earth thus creating 51 sacred sites. Her private parts fell here thus the name "Guheshwari".

Pashupatinath: Just a small walk takes you the temple of lord Siva-Pasupatinath with two tiered golden roof and silver doors is famous for its superb Newari architecture situated near the banks of sacred Bagmati River. Entrance to the temple precinct is permitted to the "Hindus Only", however visitors can clearly see the temple from the eastern bank of the Bagmati River. Pashupati, literally, "Lord of the Animals" is the patron deity of Nepal and believed to have been unearthed by an obscure herdsman while one of his cattle was showering the earth with milk. Across the sacred river, above the array of decorated monuments is the "Slasmantak or Mrigasthali Ban (forest)" where legends have it that Lord Siva dwelled in a form of an antelope to evade the hordes of demigods.
Now you will drive to your Hotel around 1830hrs. We will meet you this evening to take you to the welcome dinner with Live Nepalese Cultural Program hosted by Makalu Adventure.

| Photo Gallery |
Day 03 Kathmandu (1,310m) – Jiri ( 1950m )
Drive to Jiri about 187 km. from Kathmandu. 6 hours drive.

Day 04 Jiri ( 1950m ) – Deurali ( 2710m )
Climbing diagonally towards The Mali about 1.30 hr. and descend to Sivalaya about 1.30 hrs. Then diagonally up to Deurali (3,000 m.) about 3.00 hrs.

Day 05 Deurali ( 2710m ) – Sete ( 2580m )
From Deurali, straight down to Thado Khola and cross the suspension bridge and walk through the river valley to Kinja. Then diagonally up to Sete.

Day 06 Sete ( 2580m ) – Junbesi ( 2670m )
Start climbing to Lamjura pass (3,500 m. ) which is the first viewpoint of Everest and descends to Junbesi about 3 hrs. We can see good views of Gaurishankar, Number Himal & Dudha Kunda.

Day 07 Junbesi ( 2670m ) – Nunthala (2330m)
From here we walk up a slanting trail for about 2 hr. to Solung. Then descend to Ringmo Khola and up to Taksindo Pass. Then descend to Nunthala.

Day 08 Nunthala (2330m) – Khari Khola (2040m)
From Nunthala the descent continues to Dudh Koshi (milk river) the largest river met since the Sunkoshi. Then ascend to Khari Khola. Walk through several Sherpa villages, terraced fields and forest.

Day 09 Khari Khola (2040m) – Puiyan (2945m)
Ascend toward Puiyan through Sherpa village and a forest inhabited by monkeys, and then through a canyon.

Day 10 Puiyan (2945m) – Phakding (2,610m)
The trail climbs for about an hour after Puiyan to a ridge at 2800 meters, then up to another ridge. First we descend to Surke from Puiyan, on a small tributary stream of the Dudh Koshi and climb for 15 minutes to a junction where a stone staircase leads off to the right to the Lukla airport. However it is not necessary to go there, so we climb toward to Phakding.

Day 11 Phakding (2,610m) – Namche bazaar (3,440m)
Beginning with a slight climb to Jorsale we pass a waterfall and along this part of the trail villages are interspersed with magnificent forest – rhododendron, magnolia trees and giant firs. Then walk to Namche crossing a few bridges and then climb of several hundred meters, a steep descent and another steep climb through the forest.

Day 12 Namche bazaar (Acclimatization day 3,440m.)
Acclimatization is most important before proceeding to a higher elevation. You can spend a day taking a day hike to Thame, Khunde or Khumjung or relaxing, and explore Namche Bazaar, a Sherpa community.

Day 13 Trek Namche (3,440m) to Tengboche (3,860m) (5 hrs).
Tengboche Monastery (3,860m) 5hrs walk. We walk with beautiful view under the soaring peaks of Thamserku and steadily descend to the Imja Khola and lunch at Phunki along a very pleasant trail. Here in Phunki, we see series of water driven prayer wheels. After lunch 2 hrs ascent will take us to Tengboche Monastery (3,860m) surely is one of the most beautiful places in the world. Overnight Camp or Lodge.

Day 14 Trek Tengboche (3,860m) to Pheriche (3,860m)(5 hrs).
Pheriche (4,260m) 5 hrs walk. We move forward up to Imja Khola valley Pangboche (3,900m) and lunch. After lunch we visit the Monastery and look at the Yeti scalp. We again move to the summer village of Pheriche (4,260m). Superb scenery at all time. Overnight Camp or Lodge.

Day 15 Trek Pheriche (3,860m) to Lobuche (4,920m) (4-5 hrs).
Lobuche (4,920m) 4 hrs walk. We move up a small ridge and contour around the base of Khumbu Glacier and lunch at Dhugla (4,600m). After lunch, we take a steep ascent to the terminal moraine of the glacier from where the views are stunning. We continue again along the moraine and camp at the foot off the Lobuche Ice Fall (4,930m). Overnight Camp or Lodge.

Day 16 Trek Lobuche (4,920m) to Gorakshep (5,140m) (4 hrs).
The actual distance is not so far for this day but we wake up in the early morning and move forward to Gorek Sherpa where we take a rest.

Day 17 Hike up to Kalapatthar (5,545m). / Retrace your steps to Dingboche (4,410m) (5 hrs).
This day, we climb Kala Patthar. From here we have a steep ascent up to the top of the Kala Patthar top. The actual distance is not so far but we take it very slowly to make up for the altitude. This top (5,545m) is a hard pull but the view from the top surpasses anything you can imagine. All around us flows, huge glaciers and the creaking of the mobile glacier ice only disturbs the silence of these altitudes. The mountains of Pumori (7,145m), Lingtren (6,697m) and Khumbutse (6,623m) separate us from Tibet and just over the Lho La pass we see the huge rock of Changtse 97,750m) in Tibet itself. But Sagarmatha, or Mt. Everest the queen of them all towers over everyone. This is the roof of the world. We return at Lobuche and get continued to Dingboche for the stay overnight.

Day 18 Trek Dingboche to Tengboche (3,860m) (5 hrs).
Easy walk along the Imja Khola with a visit to the gompa at Pangboche, then a short climb up to the Tengboche Monastery. Camp or Lodge Overnight.

Day 19 Tengboche (3,860m) – Namche (3440m)(4 hrs)
The trail then descents the right flank of the Dudh Kosi valley to Namche. The descent is long but, more takes you to the famous Sherpa habitat. Lodge Overnight.

Day 20 Namche (3440m) - Lukla (2,840m)
Return trek to Lukla via Jorsule along the bank of Dudh Koshi River. Depending upon the conditions, it may take you 06 to 07 hours.

Day 21 Lukla (2,840m) - Kathmandu (1,310m)
Fly to Kathmandu, with remainder of the day free.

Day 22 Free day in Kathmandu.
Enjoy shopping and various finest restaurants in Kathmandu.

Day 23 Final Departure.

Services Included:
01. All ground transfers by private vehicle as per our itinerary.
02. Five star Hotel accommodation in Kathmandu (Twin Sharing, Bed and breakfast basis inclusive of all Tax)
03. Welcome Dinner with Live Nepalese Cultural Program hosted by Makalu Adventures.
04. Guided sightseeing around world heritage sites of KTM (Includes all applicable entrance fees.)
05. All domestic airfares (Kathmandu - Lukla - Kathmandu).
06. Teahouse trekking arrangement (accommodation, and foods as available on the lodges).
07. National Park / Conservation Area Permit Fees.
08. Guide, porters and their daily wages, insurance with all necessary lodging - fooding arrangements.

Services Excluded:
01. Airport taxes.
02. Expenses of personal nature such as bottled drinks, mineral water, laundry and etc.
03. Rescue and evacuation - if needed.
04. Personal medical and travel insurance.
05. Tips and Gratitude.
Fixed Departures Dates for 2013
Fixed Departure Dates for 2014
March
01.03.2013
14.03.2013
28.03.2013

March
03.03. 2014
17.03. 2014.
29.03. 2014
April
01.04.2013
10.04.2013
19.04.2013
29.04.2013
April
02.04. 2014
07.04. 2014
14.04. 2014
27.04. 2014
May
02.05.2013
11.05.2013
17.05.2013
23.05.2013
30.05.2013
May
03.05. 2014
10.05. 2014
18.05. 2014
24.05. 2014
31.05. 2014
June
09.06.2013
15.06.2013
27.06.2013
June
05.06. 2014
16.06. 2014
30.06. 2014
July
05.07.2013
13.07.2013
20.07.2013
33.07.2013
July
07.07. 2014
14.07.2014
21.07.2014
31.07.2014
August
06.08.2013
15.08.2013
30.08.2013
August
07.08 .2014
13.08. 2014
28.08. 2014

September
02.09. 2013
17.09. 2013
28.09. 2013
September
09.09.2014
15.09.2014
25.09.2014
October
01.10.2013
07.10.2013
17.10.2013
27.10.2013
31.10.2013
October
02.10.2014
06.10.2014
16.10.2014
26.10.2014
30.10.2014
November
02.11.2013
11.11.2013
18.11.2013
29.11.2013

November
04.11.2014
13.11.2014
20.11.2014
30.11.2014
Top


All the itineraries are subject to change to suit your schedule