LHAKPA RI TREKKING AND CLIMBING (7045M) :


The trek will start from the Rongbuk Valley, continued up to the Camp 3 and further to the ascent of Lhakpa Ri (7045m).
The summit offers the views of world's greatest mountains. Amongst the highlights are the Nyonno Ri range in eastern Tibet, the north face of Chomolonzo and the north faces of Makalu and Pethangtse. You can also see the beautiful and little known peak of Changtse and the frightening Kangshung (east) face of Everest and the magnificent east face of Lhotse.
There is an unrivalled view of the north east ridge of Everest, the North Col, Changtse, Cho Oyu and Shishapangma. You also have a chance to grasp the immensity of the Tibetan plateau as you can see hundreds of miles across the wildest of landscapes..

| Image Gallery |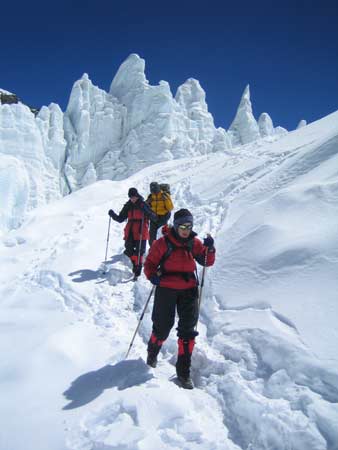 ITINERARY:

Day 01: Arrive in Kathmandu (1250m) Hotel Over night
Day 02: Kathmandu sightseeing (1250m) Hotel Over night
Day 03: Flight: Kathmandu to Lhasa (3660m) Hotel Over night
Day 04: Sightseeing in Lhasa (3660m) Hotel Over night
Day 05: Sightseeing in Lhasa (3660m) Hotel Over night
Day 06: Drive to Lhasa - Gyantse (3950m) 261 KM Hotel over night
Day 07: Drive to Shigatse (3900m) 90KM Hotel Over night
Day 08: Drive to Shegar (4050m) 244KM Hotel Over night
Day 09: Drive to Rongbuk (5000m) 68KM Hotel Over night
Day 10: Trek to Everest Base Camp (5200m) Camp
Day 11: At Base camp (5200m) Camp
Day 12: Trek to Camp 1 (5460m) Camp
Day 13: Trek to Intermediate Camp (5,760m) Camp
Day 14: Rest day for acclimatization (5760) Camp
Day 15: Trek to Camp 2 (5,970m) Camp
Day 16: Trek to Camp 3 (6,340m) Camp


Day 17 to 23: Climbing Period (7045m) Camp
Day 24: Back to Base camp (5200m) to Rongbuk (5000m) Camp
Day 25: Drive Rongbuk (5000M) - Nyalam (4450) 215KM Hotel Over night

Day 26: Drive Nyalam(4450) to Kathmandu (2150m) 153KM Hotel Over night

Day 27: Kathmandu Free day (1250m) Hotel Over night

Day 28: Final departure
COST: USD 6950 Per person Please email us at makalutrek@mail.com.np or makaluadv@wlink.com.np
| Image Gallery |
Further more information: makaluadventure@mail.com.np or makalutrek@mail.com.np
Top