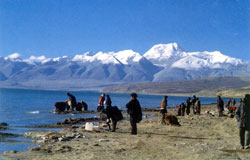 CUSTOMS:
Customs procedures for China are generally smooth and quick. On arrival you must complete a baggage declaration form on which you should declare personal valuables such as watches, cameras, radios, calculators, jewellery, foreign currency and travellers cheques, etc. Make sure you retain this form because you will have to present it together with your valuables at customs again on your departure. Export of antiques over 120 years old will need special permission and customs may confiscate other antique items if they think they're from a dubious Source.
GETTING THERE:
The choice of entries and exits for Tibet has recently increased to include more international access to Lhasa. There are direct flight into Lhasa from Kathmandu Chengdu, Beijing (via Chengdu) and Xian (via Golmud). Apart from the Kathmandu-Lhasa flight, Nepal overland route to Lhasa has become a very popular. Recently another entry point to Tibet from West Nepal (Simikot) has been opened.
TIME:
08 hours ahead of GMT. Note Tibet is linked to Beijing time so when you cross the border to Nepal the time change is considerable. Nepal is 5 hours and 45 minutes ahead of GMT.
CURRENCY:
RENMINBI, the People's money used by millions of Chinese everyday, circulates in notes of 1,2,5, 10 and 50 Yuan; 1,2 and 5 Jiao; 1,2 and 5 fen. There are also coins for 5 fen. With the Chinese Currency, Renminbi, one Yuan is divided into 10 Jiao; Jiao into 10 Fen.
TRAVELLER'S CHEQUES & CREDIT CARDS:
All major currencies, traveller's cheques and credit cards are accepted by the Bank of China and large tourist hotels in Lhasa. When you change at the bank you will receive a money exchange receipt which details the transaction. Keep the exchange receipt you can use it to reconvert your left over Chinese currency when you leave.
BANK:
The Bank of China is clcr, e to Public Security Bureau, just behind the Potala. Opening hours art from 1000 hrs to 1330 hrs and from 1600 hrs. to 1830 hrs. Its clad ill day on Sunday.
BUSINESS HOURS:
Most shops are open between 0900 hrs and 1230 hrs; and then again from 1430 hrs. until 1730 hrs. Many shops :dose~on Sundavs. Government offices are usually closed on Saturday afternoon land a day Sunday.
CLOTHING & ACCESSORIES:
April to October lite clothings are required. The recommended items are: Sleeping bag,shirts,comfortable walking shoes, Long John Trousers and shirts, sweater, jackets, dust mask, socks, sun hat, sun glasses, sun tan lotion, utility knife, water bottle/theroms (litre) flashlight. Water purification tabs, medicine for headaches, fewer, colds stomach disorders etc. Toilet papers and tissue papers.
AIRPORT:
Lhasa Gonggar Airport is 96 kms away from Lhasa.
AIRPORT TAXES:
The airport departure tax at present is approx. US$12 per person
TRANSPORTATION:
Transportation will be either in a Land cruiser or Mini-Van depending on the size of the group.
FOOD AND DRINKS:
Tibet has only a handful of towns, and Tibetan cuisine is not exactly the most varied in the world. It is handy to carry, anything that can be brewed with hot water. Instant coffee, drinking chocolate, tea bags, soup cubes, drink powder and powdered milk. other food items worth considering are instant noodles, vegemite, nuts and' raisins, chocolate, dry foods and biscuits.
ALTITUDE AND HEALTH:
No special inoculations are required but because 0f Tibet's high altitude travellers with a pre-existing problem of heart, lungs or anaemia should consult a doctor before even thinking about a visit. Most other travellers, once they are acclimatized, rarely suffer more than mild discomfort from the altitude.
Over exertion seems to contribute to mountain sickness and dehydration may be a predis-posing factor. Sensible precautions should include:
Stick to a schedule of mild activity and rest for the first two days.

Drink plenty of fluids. two to five liters a day are recommended to maintain a clear, copious urine.

Don't smoke, if you are a chronic smoker, keep it to a minimum.

Avoid sedatives such as sleeping medicine or tranquillisers. They tend to depress respiration and limit oxygen intake.

DIAMOX (acetazolamide), a mild diuretic which stimulates oxygen intake, is used by doctors for climbers making sudden ascents. This is prescription drug. One 250 mg. tablet taken on the plane from Chengdu or Kathmandu and another at bedtime the first night in Lhasa' may help to forestall discomfort for people known to be susceptible to mountain sickness. Consult a doctor.
It is not unusual to wake up at night at high altitudes gasping for breath. Don't panic ! This complaint, known as "Periodic Breathing", is normally quite harmless, caused by a change in the control of breathing within the brain while you sleep. Normal breathing can be quickly re-established by relaxation, rhythmic deep-breathing, and the understanding that there is nothing to worry about.
VISA:
All visitors entering Tibet should require SPECIAL TRAVEL PERMIT. This can be obtained joining only by-organized tours through recognized travel agencies. Chinese visa, obtained by the visitors in their home town will not be valid entering into Tibet.
For your kind information Chinese Embassy, Kathmandu working days are Monday, Wednesday and Friday from 1000 hrs to 1115 hrs in Kathmandu. Diplomatic passport holders must get clearance from Beijing for travel into Tibet which often takes long-time. It is advisable to travel on non diplomatic passport, if you have one.
Booking conditions and visa arrangement
Confirmed reservation should reach us 2 weeks prior to tour departure date along with US$150 non-refundable deposit per person.
We require following details for booking:
Full Name

Sex

Profession

Nationality

Date of Birth

Passport Number

Date of Issue/Expiry
Visa arrangements
Cost of visa fee varies for every national. A normal visa fee is applicable if the visa is processed on 5 full working day basis. An urgent fee of US$ 50 additional is applicable for the visa to be processed in 3 days and US$45 additional, if the visa is to be processed within a day. Makalu Adventures will process visa for you.