Trekking in Tibet
Advance Base Camp of Everest
We call this the Highest trek in the world, 15 days culture and wilderness on the Tibetan Plateau.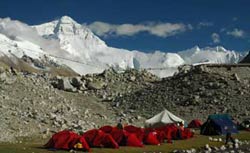 With an average altitude in excess of 3500m, Tibet can truly be described as the roof of the world. Lying to the north of the great Himalayan range which separates it from its neighbours India, Nepal and Bhutan, much of the country is high-altitude desert. With its spectacular mountain scenery and rich Buddhist culture, Tibet is a remarkable place to visit.
On this trip, we will follow the Friendship Highway through some of the most amazing landscape on Earth. We'll pass small Tibetan settlements, nomadic herdsmen wandering across the wide arid plains and awe-inspiring mountain peaks. Equally as fascinating is the wealth of cultural interest and we will have plenty of opportunity to explore this side of Tibet, both in Lhasa and the other towns we pass through on our journey to Kathmandu.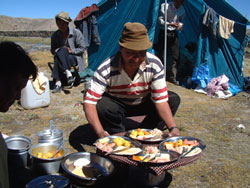 We spend 3 nights in Lhasa, staying right in the centre of the old city. This will allow both plenty of time for acclimatisation and easy access to the city's main attractions - the Potala Palace and the Jokhang Temple. Leaving Lhasa in our Toyota Landcruiser 4 wheel drive, we'll travel through this amazing country, staying in the best traditional hotels Tibet has to offer. In the towns of Gyantse and Shigatse we explore further monasteries and fully immerse ourselves in the Buddhist culture.
Without doubt, a highlight of this trip is the visit to Everest Base Camp, and the trek to camp 3 at 6340m., where the sheer grandeur of Everest's north face you have to see to believe. This trek takes you as close to the summit of Everest as any non-climber can go. This adventure, the highest trek in the world, is an incredible journey to camp 3 and the base of the North Col via the East Rongbuk Glacier. Nowhere else on this planet can you hike on trail to such a high elevation without the need for crampons, ice axes, or mountaineering skills.
| Image Gallery |
Advence Everest Base Camp Trekking Itinerary

01 ARRIVE KATHMANDU. Transfer to Hotel.
02 EXPLORE KATHMANDU VALLEY
03 KATHMANDU [1400M] - LHASA [3660M]
Morning transfer to the airport for the hour-long flight to Tibet. This spectacular flight, on a China Southwest Airlines Boeing 757, takes us right across the main Himalayan range and provides us with magnificent mountain views. After landing at Gonggar Airport and meeting our Tibetan guide, it is a further 2-hour drive by Landcruiser jeep to Lhasa where we will check in to the Hotel Dhood Gu or Dhood Gu. It's advisable to rest and take it easy for the remainder of the day due to Lhasa's altitude.
04 IN LHASA
Today will be spent visiting several of Lhasa's many monasteries in the company of a guide and interpreter. One of these is the Sera Monastery, one of the best-preserved monasteries in Tibet. Within its whitewashed walls and golden roofs, several hundred monks live and study. After lunch we'll visit the Norbulingka, the summer palace of the Dalai Lama, as well as the Jokhang Temple. This temple is possibly the most sacred shrine in Tibet and there is always a procession of devout Tibetans through the complex. Surrounding the Jokhang is the Barkor - a maze of narrow cobbled streets that is the central market of Lhasa.
05 IN LHASA
This morning we will visit the Potala Palace, which dominates the city of Lhasa. A spectacular building, it contains the private quarters of the Dalai Lama as well as numerous grand staterooms and many important chapels. There has been a palace on this site since the 5th or 6th century, but the present palace was constructed in the 17th century. A visit to the Drepung Monastery this afternoon will complete a truly awe- inspiring day. Founded in the 14th century, this monastery was once the largest in the world. With a population of around 10,000 monks. These days that figure is down to several hundred, but there is still much here of interest as it was left relatively unscathed during the Cultural Revolution.
06 DRIVE LHASA - GYANTSE [3950M] 261 KM
Today we start our overland journey towards Kathmandu. Travelling by jeep along the Friendship Highway we cross the Khamba La [4794m] from which there is stunning views across the waters of Yamdrok-tso Lake to the snowy summit of Nazin Kang Sa [7252m]. We continue westwards over another high pass the Karo La [5045m] where we are treated to the spectacular sight of a huge glacier tumbling down to within a few hundred metres of the road. After passing through beautiful valleys and colourful Tibetan villages we arrive in the town of Gyantse. Our overnight accommodation is at the Gyantse Hotel.
07 DRIVE GYANTSE [3950M] - SHIGATSE [3900M] 90KM
Before leaving Gyantse we have time this morning to visit the Gyantse Dzong and Gyantse Kumbum. The Dzong is a fort dating from the 14th century from which there are amazing views of both Gyantse itself and the surrounding Nyang Chu Valley. The Kumbum is a large gold-domed stupa and its many small chapels house an impressive array of Tibetan Buddhist murals.
We then continue on to Shigatse, a short drive of only 90kms, arriving in time for lunch. Shigatse is the second largest city in Tibet and after exploring the local market we will make a detailed visit to the Tashilhunpo Monastery. This monastery is one of the largest functioning monasteries in Tibet and there is much to explore within its high surrounding walls. Overnight at either Shigatse Hotel or Woutse Hotel.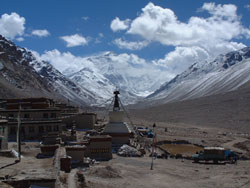 08 SHIGATSE [3900M] - SHEGAR/NEW TINGRI [4050M] 244KM
Today we continue along the Friendship Highway, marvelling once more at the barren yet spectacular landscape of Tibet. Beyond the small town of Lhatse we cross the highest pass on our journey, the Gyamtso La [5220m]. From here we descend to the plains, passing lonely monasteries and the camps of nomadic herders, en route to Shegar and our overnight accommodation at Hotel Quomolongma.
09 DRIVE SHEGAR [4050M] - RONGBUK [5000M] 68KM
Shortly after leaving Shegar, we turn off the Friendship Highway and head south over the Pang La [5150m] towards the main Himalayan range. The view from the top is incredible with uninterrupted views stretching from Makalu to Shishapangma. Below the pass, Everest initially is hidden from view, but as we turn the corner into the Rongbuk Valley it reappears, more impressive than ever. We stay overnight at the Gompa Guest House.
10 RONGBUK EVEREST BC
We spend a night here in Base camp to acclimatise, this is a good place to read a book: just how often do you get a chance to sit and read at 5000m and with the stunning view of Everest's north face.
11 RONGBUK EVEREST BC
We spend another in Base camp to acclimatise, it is very important that we take our time and gets very well acclimatised before we go to the ABC. Towe will explore the surroundings of the Rongbuk Everest base camp, just to get started working a little.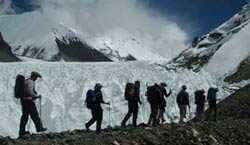 12 TREK FROM EVEREST BASE CAMP TO CAMP 1 [5460M]
The Rongbuk Glacier is an impressive frozen ocean of ice waves; the views of the glacier and the Himalayan peaks are some of the most dramatic in Tibet.
Along the east side of the gslacier is the trail that expeditions use to begin their climbs of Everest and this is the trail we are taking. Camp 1 [5460m] is set in a barren world of moraine hills under beautifully sculpted yellow-orange granite cliffs. The next camp is too far to reach in a single day, so to help us acclimatise we spend the remainder of the afternoon exploring the gravely snout of the east Rongbuk Glacier.
13 TREK TO INTERMEDIATE CAMP [5760M]
The trail to the Interim Camp climbs and descents over the gravel hills, always staying above the west edge of the ice. Intermediate camp [5760m] is a good place to spend a night acclimatizing before advancing to Camp 2. Nearby, the first ice seracs [ice pinnacles] rise like white sails from the dark debris-laden surface of the glacier we will go and take a good look at these.
14 REST IN INTERMEDIATE CAMP
We spend a day here for further acclimatisation. We will of course explore the surroundings on small excursions
15 TREK TO CAMP 2 [5970M]
About two hours above the Interim camp the central ridgeline leads in to a confusion of ice at the confluence with the Changtse glacier. Camp 2 [5970m] is only ten minutes from here, it is set in a beautiful location; glaciers large and small spill into the valley from every direction and the appropriately named Sera Highway continues to extend its unusual gravel arm trough the centre of the of the ice formations.
16 TREK TO ABC [6340M] AND RETURN TO CAMP 2
Depending on how the group feels, a decision must be made between moving tents up to camp 3 or visiting it as a hike and spending a second night at camp 2. Unless the group is particular interested in sleeping in Camp 3, we return to camp 2 today, this gives us a better chance to enjoy the walk back to base camp tomorrow.
Camp 3, the advanced base camp for the North Col route up Mount Everest, is situated within a group of flattened gravel mounds beside the glacier. The pinnacles, the frightening group of rock palisades that kept the Northeast Ridge unclimbed for so long, are just another 11/2 km. Further up from camp 3. Most amazing of all is the ridge extending above the Pinnacles to the southwest: the striated rock summit of Everest. The top of this mountain appears phenomenally close; it is little more than 2400 meter higher than camp 3. This is the closest non-climbers can get the top of Everest. With a pair of binoculars, you are almost there…
17 RETURN TO BASE CAMP
The return to Base Camp is a long down hill journey, but we complete it in one day, if we start out from Camp 2 it is much more enjoyable than from camp 3, we will have a chance to get our eyes off the end of our boots.
18 DRIVE RONGBUK [5000M] - NYALAM 215KM
Today we rejoin the Friendship Highway and drive to Tingri. Upon leaving Tingri, we cross another two high passes, the Lalung La [5124m] and the Shung La [5200m]. Once more we are rewarded with magnificent views of the surrounding peaks of Shishapangma, Cho Oyu, Menlungtse and Gauri Shankar. Now we begin our descent from the Tibetan Plateau to Nyalam just 30 km before the Nepalese border. With dramatic suddenness, everything appears incredibly lush and green.
19 DRIVE NYALAM - KATHMANDU [1400M] 153KM
From Nyalam we drive the last 30 kilometres to the Friendship Bridge, which spans the Bhote Koshi River and marks the Chinese - Nepalese border. We say goodbye to our Tibetan guide and driver and walk to Nepalese Immigration Control in Kodari where our Nepalese staff will meet us. After completing the re-entry formalities we continue the drive to Kathmandu, which, depending on road and weather conditions, should take about 5 hours.
In the monsoon season, be prepared to have to walk stretches of this road because of landslips from higher up.
20 Departure to onward destination.
Special offer Cost: USD 2850 per person
Included Services:
All ground transfers by private vehicle as per our itinerary.
Thamel Eco resort three Star Hotel in Kathmandu (twin sharing, bed & breakfast basis including all Tax and VAT).
Welcome dinner with Live Nepalese Cultural Program hosted by Makalu Adventures.
Guided sightseeing around Kathmandu Valley with all applicable entrance fees.
Tibet Travel Permit Fee, and all other applicable fees.
Guided sightseeing in Lhasa (includes all entrance fees).
Dhud Gu or similar Hotel in Lhasa (Twin sharing, bed & breakfast basis including all applicable Tax and VAT).
All hotels on the way (including breakfast).
Daily wages, visa fee and insurance of staffs, guides and porters, Yak and Yak men.
Three times meal a day while camping (prepared by our kitchen crew),
All camping equipments such as Two men tent, Dinning Tent, Kitchen tent, tables, chairs, mattresses and etc.
All other necessary equipments like Portable Altitude Chamber (PAC) (For the altitude problem) and etc.
Trekking permit fees.
Costs Exclude:
Airport Taxes & excess baggage charge.
Kathmandu - Lhasa flight (USD 490 & subject to change)
Visa fees (USD 85)
All expenses of personal nature such as beverages, telephone bill, laundry bill, mineral water, tips and etc.
Personal medical and travel insurance.
Rescue & evacuation - if needed.
| Image Gallery |

Fixed Departure Dates
Departure Dates 2013
April
Trip 01: 18/04 – 09/05/2013

( 12 seats are available)

May
Trip 02: 09/05 – 30/05/2013
Trip 03: 26/05 – 16/06/2013 ( few seats are available)

June
Trip 04: 16/06 – 07/07/2013

July
Trip 05: 07/07 – 28/07/2013
Trip 06: 18/07 – 08/08/2013

August
Trip 07: 08/08 – 29/08/2013
Trip 08: 25/08 – 15/09/2013

September
Trip 09: 05/09 – 26/09/2013 ( 12 seats are available)
Trip 10: 19/09 – 10/10/2013

October
Trip 11: 10/10 – 31/10/2013
Trip 12: 20/10 – 09/11/2013 (Seats are available)
Last Updated:
Copyright © 1997 - 2013, Makalu Adventure P. Ltd
All rights reserved. No part of this publication may be reproduced, stored in retrieval system, or transmitted in any form, without a written permission of Makalu Adventure Trek.