Dolpo Treks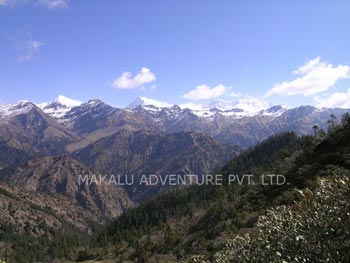 The region, designated as Shey Phoksumdo National Park, is the most remote district in Nepal situated in the Trans Himalayan region of mid-western Nepal. Dolpa is also known as "Ba Yul" or the hidden valley. The region with fascinating villages and is still a land of mystery, scenery and peace. Trekking in the lower region takes you to Ringmo and beyond - Phoksumdo Lake at 3600 m also known as the Blue Lake contains no aquatic life. The trek crosses two high passes of Baga La (5070 m) and Numa La (5190 m) into Dho Tarap village (4040 m) a region inhabited by people practicing polyandry and pre-Buddhist religion called "Bon Po"
The trek in Upper Dolpa crosses Sheula pass from Phoksumdo Lake to the legendary Crystal Mountains to Shey Gompa (4200 m) a Buddhist monastery and further to Samling Gompa a Bon Po monastery. This region has a long aura of mysticism about it. Site of Eric Valli's Oscar nominated movie "Caravan" - where people trade salt for grain with the people from far away land of Hurikot and Jumla to compensate their dwindling winter supply of food.
| Picture Gallery |
Itinerary:
Day 01: Arrive Kathmandu & Transfer to Hotel. (See the Hotels we use).

Day 02: Full day guided sightseeing around of the Kathmandu valley.
Join us for the welcome dinner at evening. Hotel Overnight.

Day 03: Flight: Kathmandu - Nepalgunj (Mid Western Region Town).
Free to explore (if you wish). Hotel Overnight.

Day 04: Flight: Nepalgunj - Juphal. Camp

Day 05: Trek to Sahartara. Camp

Day 06: Trek to Khanigaon. Camp

Day 07: Trek to Lahini. Camp

Day 08: Trek to Kmat Tarka. Camp

Day 09: Trek to Tarap. Camp

Day 10: Trek to Dho. Camp

Day 11: Rest day at Dho. Camp

Day 12: Trek to Numla. Camp

Day 13: Trek to Numla Bhanjyang. Camp

Day 14: Trek to Bagla. Camp

Day 15: Trek to Ringmo. Camp

Day 16: Rest day at Ringmo. Camp

Day 17: Trek to Sepka. Camp

Day 18: Trek to Rohangaon. Camp

Day 19: Trek to Dunai. Camp

Day 20: Trek to Juphal. Camp

Day 21: Flight: Juphal - Nepalgunj - Kathmandu. Hotel Overnight.

Day 22: Free day to explore, and enjoy Kathmandu. Hotel Overnight.

Day 23: Final Departure.
Fixed departure 2013:
06 May 2013, 15 May 2013, 19 May 2013and 27 May 2013
07 June 2013, 17 June 2013 and 27 June 2013
03 July 2013, 13 July 2013 and 23 July 2013
05 Aug 2013 and 25 Aug 2013
04 Sep 2013, 15 Sep 2013, 21 Sep 2013 and 29 Sep 2013
01 Oct 2013, 12 Oct 2013, 17 Oct 2013, 21 Oct 2013 and 31 Oct 2013
09 Nov 2013
All the itineraries are subject to change to suit your schedule