| | |
| --- | --- |
| MAKALU EXPEDITION... | MOUNT MAKALU (8,463 m) |
Our route does transverse first climbing all the way to Neghe Kharka, crossing the Barun Khola flowing from Makalu. The route to Makalu Base Camp (4823m) involves a sustained period at altitude with some steep slopes, but rewards with powerful views of Makalu (8481m) to the north. This is the realm of the glaciers, surrounded by the unforgettable presence of the world's mightiest mountains; and brooding above the towering bulk of Everest itself.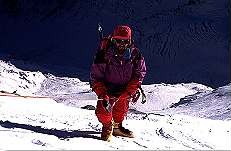 Expedition Duration (Total):
55 Days (Expected / Planned)

Expedition Route:
Normal / Caravan

---

Royalty:
USD 10,000 (Team up to 7 Persons)
USD 1,500 Each Additional Member
(Team up to 12 Persons)

---

Garbage Deposit:
USD 3,000 (Refundable)

Liaison Officer:
USD 2,000

Climbing Sherpa (Each):
USD 1,500 to USD 2,000 (Negotiable)

Season: Spring / Autumn
---

Normally, we set up four camps in the approach excluding ABC at 5,700m. Following the lateral moraine and hiking onto the glacier, we plan to set up the camp I at a glacial plateau at 6,150m further proceeding the direction of the glacier plateau towards Makalu Pass, climbing stretches of steep slopes and arriving at the base of the Makalu Pass to set up the camp II at 7,000m. We climb the Messner Headwall towards the North West Ridge at Makalu La and the site of camp III at 7,300m. Camp IV will be set up on the North Ridge at 7,850m and finally leap for the summit at 8,462m.
---
---

[ HOME ] [ EXPEDITIONS ] [ TREKKING ] [ RAFTING ] [ SAFARI ] [ MTB TOUR ] [ TIBET ] [ BHUTAN ] [ NEPAL ]
[ E-mail Us ]