MAKALU BASE CAMP TREKKING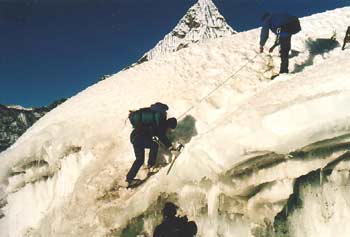 Trip Overview

Though this is a demanding and challenging and an outstanding trek in eastern Nepal, the trek up to Makalu base camp visits one of the most remote and unfrequented areas of Nepal. The long trek and unspoiled terrain makes this trek a classic in its own. This trek goes high up to 5100m. This is a region where you hardly find any modern facilities and amenities.

| Picture Gallery |

DAY 01: ARRIVE KATHMANDU AND TRANSFER TO HOTEL.

DAY 02: FULL DAY GUIDED SIGHTSEEING INSIDE THE KATHMANDU VALLEY.
Join the welcome dinner with live Nepalese cultural program hosted by Makalu adventures.

DAY 03: KATHMANDU-TUMLINGTAR - KHADBARI (1,040 m – 4-hrs Hiking.)
Fly to Tumlingtar which is an hour flight. Here your trekking crew will meet you and a bit of briefing about the trail, then start walking up to Khadbari (1,040 m). Have lunch break in the shade of Kabra Trees. We walk north towards Khandbari, then begin walking on a plateau for around 45 minutes after the trails climbing gradually to Khandbari. We camp above the village.

DAY 04: KHADBARI (1,040 m) - CHICHILA (1830 m - 5/6 hrs Hiking)
After breakfast walk through many small picturesque villages most of the time the walk is uphill and you will be walking through bamboo groves and a rhododendron forest. Our camp is at Chichela a small settlement of Gurungs at 1830m.

DAY 05: CHICHILA (1830 m) - NUM (1490 m - 5 hrs Hiking)
Today we start walking with views of snow capped peaks in the distance. Fantastic views of Makalu and its surrounding peak. Walk on a striaght path, with little ups and downs, through forest to have lunch at about 2 hrs and then start descending to reach Num. Camp.

DAY 06: NUM (1490 m) - SEDUA - (1460 m 5/6 hrs Hiking)
The trail today descends steeply from Num through the Cornfield of Lumbang. The country is particularly rocky; tiny terraces planted with corn and barley, then we have tough steep climb to Sedua. Camp

DAY 07: SEDUA (1460 m) - TASHI GAON (2070 M - 5 hrs Hiking)
The trail crosses meadows and several streams, then climbs to the Sherpa village of Tashi Gaon, the last permanent settlement in the valley. Camp

DAY 08: TASHI GAON (2070 m) - KAUMA (3470 m - 6 hrs Hiking)
A very hard day of the trek as the trail goes up real steep. We walk through the sparse forests along the ridge over a hillock and descend a bit to Kauma at 3470 m. Camp

DAY 09: KAUMA (3470 m)
Today is a rest day as well as acclimatization day.

DAY 10: KAUMA (3470 m) - MUMBUK (3570 m - 5 hrs Hiking)
We again start today with a steep climb then through less steeply rhododendron forests to the top of the ridge. You will have superb views of Chamlang (7,290 m) Peak 6 (6739 m) and Peak 7 (6105 m). Then we will have a final descent through a forest of firs and rhododendrons to Mumbuk. Camp

DAY 11: MUMBUK (3570 m) - NEHA KHARKA - (3000 m - 6 hrs Hiking)
Today the trail descends steep gully with a stream for about 500m. The trail is ill defined, rocky and sloppy mud in places as it leads up the glacial valley. From here you can have a good views of Peak 6. Nhe Kharka is located on a large open grassy plain at an elevation of 3000 m. from here you will have great mountain views. Camp

DAY 12: NEHA KHARKA - (3000 m) - SHERSON (4615 m - 7 hrs Hiking)
The trail today turns westward and leaves the rhododendron forests for alpine tundra. There are excellent views of Pyramid Peak (7168 m), Peak 4 (6720 m) etc. Sherson is at 4615 m a bit dangerous day as the altitude gains more than 1500 m but we don't have a choice because we do not have any suitable camp between Nhe Kharka and Sherson.

DAY 13: SHERSON (4615 m) - MAKALU BASE CAMP (5000 m - 4/5 hrs Hiking)
Today is a gradual climb to a minor pass about 100 m . From here you will have a magnificent south face views of Makalu also you will be able to see the complete panorama of Everest and Lhotse. Camp

DAY 14: EXPLORE MAKALU BASE CAMP

DAY 15: MAKALU BASE CAMP TO NEHA KHARKA - (3000 m)
We retrace back down the Barun Valley. Camp

DAY 16: NEHA KHARKA - (3000 m) – MUMBUK (3570 m)
We continue descending back. Camp at Mumbuk

DAY 17: MUMBUK (3570 m) - KAUMA (3470 m)
We trek across Shipton La and descend to Kauma

DAY 18: KAUMA (3470 m) - TASHI GAON (2070 m)
Today we walk a bit long to Tashi Gaon. Camp

DAY 19: TREK TO PAKUWA (1520 m)
We walk through farming settlements to the spread out Rai village. Continue in forests past several streams to Pukuwa. Camp

DAY 20: PUKUWA (1520 m) - BUMLING - 1160 m
Walk through the forests and follows some spectacular high and exposed narrow tracks as it climbs over rocky ridges. We camp across the Chhetri village of Bumling.

DAY 21: BUMLING-TUMLINGTAR - 860 m
We following the east bank of the Arun and the route pass through Chyawabesi before making a short climb back to Tumlingtar. Camp

DAY 22: TUMLINGTAR-KATHMANDU

DAY 23: KATHMANDU FREE DAY.

DAY 24: FINAL DEPARTURE.


"Give your child a pencil and ask to draw a mountain – s/he will draw Makalu…. straight up and then down; an amazing gesture" - M. Lamsal

Services Included:
Services Included:
01. All ground transfers by private vehicle.
02. Three star Hotel Thamel Eco resort in Kathmandu (Bed and breakfast basis inclusive of all govt. Tax and VAT.)
03. Welcome Dinner with Live Nepalese Cultural Program hosted by Makalu Adventures.
04. Guided sightseeing around world heritage sites of KTM. (Includes all applicable entrance fees.)
05. All domestic airfares (Kathmandu - Tumlingtar - Kathmandu).
06. Organized Camping Trek arrangement, including all high quality German Salewa / UK Super Quasar camping equipments and tents such as Two Men Tent, Kitchen Tent, Dinning Tent, Toilet Tent, Tables, Chairs, Mattresses, Hot Water Bags, Pillows, Inner Sheet and etc.
07. Three times hot meals a day while trekking, which will be prepared by our very professional kitchen crew.
08. National Park / Conservation Area Permit Fees (Makalu Barun Conservation Area).
09. Guide, porters and their daily wages, insurance with all necessary lodging - fooding arrangements.
10. High altitude working crew / high altitude porters / vast experienced climbing Sherpa / guide with their daily wages, insurance and all arrangements.


Excluded Services:
01. All International Airfares / Airport taxes.
02. Expenses of personal nature such as bottled drinks, mineral water, laundry and etc.
03. Rescue and evacuation (helicopter operation) - if needed.
04. Personal medical and travel insurance.
05. Tips and Gratitude.


Fixed Departures Dates for 2013
Fixed Departure Dates for 2014
March
01.03.2013
14.03.2013
28.03.2013

March
03.03. 2014
17.03. 2014.
29.03. 2014
April
01.04.2013
10.04.2013
19.04.2013
29.04.2013
April
02.04. 2014
07.04. 2014
14.04. 2014
27.04. 2014
May
02.05.2013
11.05.2013
17.05.2013
23.05.2013
30.05.2013
May
03.05. 2014
10.05. 2014
18.05. 2014
24.05. 2014
31.05. 2014
June
09.06.2013
15.06.2013
27.06.2013
June
05.06. 2014
16.06. 2014
30.06. 2014
July
05.07.2013
13.07.2013
20.07.2013
33.07.2013
July
07.07. 2014
14.07.2014
21.07.2014
31.07.2014
August
06.08.2013
15.08.2013
30.08.2013
August
07.08 .2014
13.08. 2014
28.08. 2014

September
02.09. 2013
17.09. 2013
28.09. 2013
September
09.09.2014
15.09.2014
25.09.2014
October
01.10.2013
07.10.2013
17.10.2013
27.10.2013
31.10.2013
October
02.10.2014
06.10.2014
16.10.2014
26.10.2014
30.10.2014
November
02.11.2013
11.11.2013
18.11.2013
29.11.2013

November
04.11.2014
13.11.2014
20.11.2014
30.11.2014
Top


All the itineraries are subject to change to suit your schedule